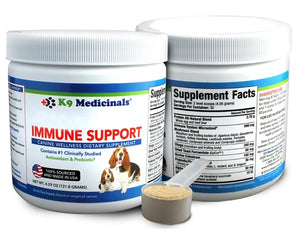 A science-based formula developed for Vets…for your pets. Clinical Formula for Immune System Support.
K9 Medicinals® Immune Support is a holistic, multi-formula, science based, canine health supplement. It's designed to support canine body systems responsible for optimal immune system function and health.
K9 Medicinals® Immune Support details:
Contains #1 Clinically Studied Antioxidant and Probiotic
100% Human Grade Ingredients & Made to Human Standards in an approved and inspected FDA facility
NO sugar, starch or blood-glucose elevators.
Yummy beef flavor. Dogs love the taste.
100% Made and sourced in the USA
Many dogs show more vigor and energy within a week, some dogs take up to four weeks to show improvement.
Medicinal Mushrooms Certified Organic (one strain of chaga is northern forest "wild" – eco-responsibly harvested)
NO FILLERS! This formula's base is 100% USA sourced, human grade – Beef Liver and whole egg.
100% Manufactured in USA – GMP – FDA – USDA
Clinically Proven – Patent Pending – Guaranteed!
About Us
YOUR FAMILY'S HEALTH IS OUR FAMILY'S PRIORITY
Sunshine Complete was born out of our family organic supplement business, started in 2008.  The original business, K9medicinals.com, was developed after our beloved basset hound, Rosie, was diagnosed with cancer and given two weeks to live.  After researching conventional and alternative treatments, we discovered an affordable, all- natural, organic supplement that extended her life by two years. When we saw how much it helped Rosie, we knew we needed to share what we had learned with other pets and their families.  And so, our journey of education, support and love began and we added Dogcancer.net.  We then extended our brand to include humans as well.  A portion of every sale since 2008 has gone to support pets and families in need.  We invite you to visit both of our other web sites at K9medicinals.com and Dogcancer.net. 
Now, with our new Sunshine Complete site we are putting the emphasis on helping support the health and beauty of humans as well. We have added a fabulous new line of products for men, women and pets.  Everything is organic, made in the USA to human grade standards with the best ingredients available.  
Our guarantee and promise, from our family to yours, is to provide the best products and customer service possible.  We are here for you and it is our honor and pleasure to be of service.  
Hugs,
Dorla, Baby and Bogie
Shipping & Returns
How fast can you fill my order?
All orders received Monday-Friday, before 2:00pm (PST), are shipped the same day. Orders received after 2:00pm (PST) will be shipped the next day. USPS Express Mail orders must be placed before 11:30am (PST) for same day shipping.
Which shipping carrier do you use?
All orders are shipped via US Postal Service (ground, First Class, Express or Priority Mail).
When will I get my order?
Orders usually arrive within 3-4 days of shipment. Depending on your location, USPS Express Mail arrives the next business day ( excluding Sunday and holidays) after shipping. However, there are some locations within the U.S. where delivery will be two days.
International shipping
We regret that we are no longer able to ship orders internationally.
Return policy
If you wish to return any unopened or partially used product please send it to:
Sunshine Complete – RETURNS
3688 Research Way, Suite 1
Carson City, NV 89706
Please include your name, telephone number and mailing address inside the package.
You have 30 days to return the product from the date of purchase.
Once we receive your return, we'll immediately process it. Once processed, we will credit the credit card account you provided us at the time of your original purchase. It generally takes 5 to 7 business days for the credit to appear on your account.
Please email us if you have any questions regarding our refund policy: info@sunshinecomplete.com
Reviews